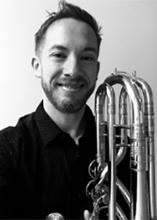 Dr. Alan Carr, bass trombonist, is Director of Brass and Assistant Professor of Music at Mason and is director of the Mason trombone choir known as SlidinGMUsic. Previously, he was on the music faculty at Bates College, the University of Maine at Augusta, and Concordia University Wisconsin. Dr. Carr has performed with orchestras throughout North America, Europe, and Asia. Read Alan Carr's full bio.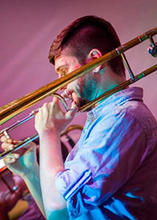 Aaron Eckert also teaches in the trombone ensemble. Originally from Belleville, IL, he is a trombonist with the U.S. Army Blues, the premier jazz ensemble of the Army. With the Army Blues, Aaron has performed across the capital region, including the White House, Capitol Building, and Kennedy Center. In addition to the Blues, Aaron performs regularly in the D.C. area in a wide variety of musical settings. Read Aaron Eckert's full bio.
Mason is the perfect place to study trombone as it offers undergraduate and graduate degrees in classical and jazz performance, music education, arts administration, and more. Our experienced faculty have performed with ensembles all over the world. You will have the chance to perform with a myriad of ensembles including the renowned Green Machine pep band as well as with the Mason SlidinGMUsic trombone choir. On top of all that Mason is located just minutes from Washington, D.C. and offers many scholarship opportunities, making it one of the best values for trombone study.
Sophomore Sophomore Silvana Uhorchuk shares her Mason experience as a student of Dr. Carr.
Highlights from a Fall 2021 Trombone Choir performance at the Hylton Performing Arts Center.