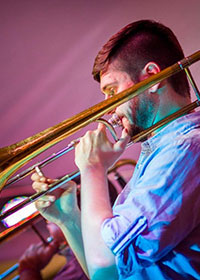 Titles and Organizations
Adjunct Faculty, JAZZ TROMBONE, Dewberry School of Music, CVPA
Biography
Aaron Eckert, originally from Belleville, IL, is a trombonist with the U.S. Army Blues, the premier jazz ensemble of the Army. He has performed with artists such as Jon Faddis, Jeff Hamilton, Chuck Israels, Conrad Herwig, and Scott Wendholt among others. With the Army Blues, Aaron has performed across the capital region, including the White House, Capitol Building, and Kennedy Center. In addition to the Blues, Aaron performs regularly in the D.C. area in a wide variety of musical settings.
Before moving to D.C., Eckert served as the Low Brass Instructor at Mt. Hood Community College in Gresham, OR. While in Oregon, he played regularly with the Mel Brown Big Band, the Hapa Hillbillies, the Chuck Israels Octet, the Eastern Oregon Symphony, and was on the jazz faculty at the Eastern Illinois University Summer Music Camp.
Aaron completed his master's degree with a Performer's Certificate at the Eastman School of Music, with degrees in Jazz and Contemporary Media Performance (trombone) and Performance and Literature (euphonium). While at Eastman, Eckert was awarded 1st prize in the Rich Matteson Jazz Euphonium Competition, as well as 2nd prize (as a member of the Carillon Tuba Quartet) in the ensemble competition at the International Tuba Euphonium Conference. Also, Eckert was selected as a finalist for the International Trombone Association J.J. Johnson Competition and placed 2nd in the Texas State Jazz Trombone Competition. Eckert had the privilege of studying both trombone and euphonium with Mark Kellogg.
Eckert holds bachelor's degrees in Music Education and Jazz Studies from Eastern Illinois University. During his undergraduate studies, Eckert was recognized as the Outstanding Music Student of the Year from 2012-2014, the Outstanding Performer of the Year in 2013 & 2014, and was a finalist for student teacher of the year in 2014. During his five years at Eastern Illinois, Aaron studied with Paul Johnston and Jemmie Robertson.
Adjunct Professor of Music
Degrees
MM, Performance and Literature (euphonium), Eastman School of Music
MM, Jazz and Contemporary Media (trombone), Eastman School of Music
BA, Instrumental Music: Teacher Certification, Eastern Illinois University
BA, Jazz Studies, Eastern Illinois University