Welcome from the Director
---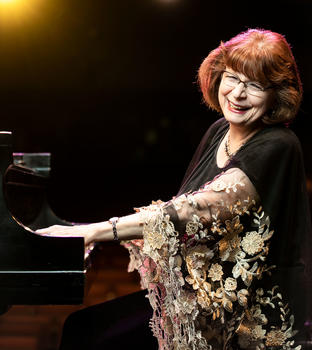 Welcome to the Dewberry School of Music of George Mason University! We are proud of the musical depth, academic rigor, and diversity of opportunities we offer our music students within a public research university. The combined experience of our faculty in solo, chamber, symphonic, jazz, operatic, contemporary, and world music is extensive indeed. Our proximity to Washington D.C. affords our students access to one of the most culturally rich communities of performers, educators, and academics in the world. Mason is a very special place, filled with talented, focused students and a caring, nurturing team of faculty and staff dedicated to the success of each student.
If you are a prospective music student, please take the time to apply, audition, and join us for an open house, shadow day, campus tour, or ensemble performance. We look forward to welcoming you to our beautiful George Mason University campus in Fairfax, Virigina! 
Dr. Linda Apple Monson
Director, Dewberry School of Music
Music Is the Ultimate Form of Expression
Dr. Linda Apple Monson is an International Steinway Artist and an honoree of the 2014 Influential Women of Virginia award. Named a Distinguished Service Professor at George Mason University, Monson serves as Director of the Dewberry School of Music as well as  Director of Keyboard Studies.