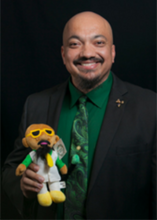 The Green Machine was created in 2006, inspired by the achievement of the Mason Men's Basketball team reaching the NCAA Final Four, and spearheaded by the Office of Admissions. With its spirited performances, remarkable excellence, and unique approach to bringing performing arts to life, the Green Machine quickly became an integral part of the Mason community, embraced by students, faculty, and administration.  
Serving as Director of Campus Life Ensembles and Collaborative Arts, and as an Associate Professor of Music, Dr. Michael W. Nickens (a.k.a. Doc Nix) is most recognized as the leader of the Green Machine.
The collection of performing units, known as the "Green Machine Ensembles," are internationally known for their thrilling, high-energy performances at Mason ceremonies and basketball games, professional sports games and events (Capitals, Nationals, Wizards, and Redskins), community events (Celebrate Fairfax, and the Nike Womens' Half Marathon), and marching competitions, as well as their popular internet videos that have over 100 million views collectively. 
The Athletic Bands program currently consists of the following ensembles:
Green Machine Showcase 2021
Green Machine were invited to play at the 2019 World Series at Nats Stadium. Go Nats, Go Mason!
Mason Madness 2018: Welcome to the Jungle
Mason's official kick-off to their men's and women's basketball season is called Mason Madness. Performing Welcome To The Jungle with Doc Nix and The Green Machine in 2018 were Mason Cheer, the Masonettes, Spirit Drumline, Mason Declaration, the Ceremonial Corps, and the 'Mason Patriot' mascot.