In-Person Tour Policy 
The Dewberry School of Music offers in-person tour opportunities to prospective and incoming students and their families. Tours are by appointment only, and if you are interested in scheduling an in-person tour, please contact Emily Craine.
Virtual Tour Opportunities
We are continuing to offer virtual tour opportunities for those who are not able to come to campus. If you would like to see the music spaces in real time, you may schedule a "live" virtual tour that will be held over Zoom or FaceTime. Please contact Emily Craine for more information.
A Virtual Tour of Our Spaces
Shadow Days
---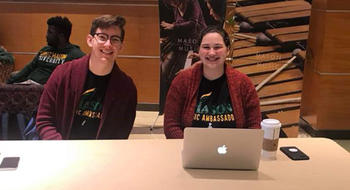 Get the experience of a Mason music student for a day! Led by our Mason Student Ambassadors, our Shadow Days feature opportunities to attend classes, watch and participate in ensemble rehearsals, meet faculty and current students, tour our facilities, learn about the audition process, and much more. All students are welcome to attend.
The Dewberry School of Music will be hosting more Shadow Days during the Spring 2023 semester. Please check back for upcoming dates.
A Sample Schedule
9:00 a.m. – 9:30 a.m.
Registration
9:30 a.m. – 10:20 a.m.
Conducting, Aural Skills, or Music Theory
10:30 a.m. – 11:20 p.m.
Music Theory, Music in Computer Technology, or Musical/Oral Communication
11:30 a.m. – 12:20 p.m.
Chamber Ensembles
12:30 p.m. – 1:20 p.m.
Studio Classes and Lunch
1:30 p.m. – 2:00 p.m.
School of Music Tour and Q&A Session
2:00 p.m. – 2:45 p.m.
Music Education Method Courses and Ensemble Rehearsals
(University Singers, Percussion Group, and Jazz Combos)
3:00 p.m. – 4:15 p.m.
Instrument Pedagogy, Musics of the World and Ensemble Rehearsals
(Symphonic Band and Jazz Workshop)
4:30 p.m.
End of Day
*Optional rehearsal at 4:30pm for Symphony Orchestra, highly recommended for string players
Instrument Days
---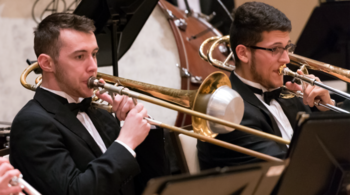 The Dewberry School of Music is pleased to offer instrument days to middle and high schoolers and to the wider community at large.
Bring your instrument to Mason and take part in engaging activities, including a chance to perform in an ensemble as well as attend masterclasses. All instrument days take place in the deLaski Performing Arts Building on the Fairfax campus. Check back in the Fall for more instrument day dates. Past instrument days have included: Brass Day, Trumpet Day, Trombone Day, Horn Day, and Tuba/Euphonium Day.
VBODA All-Virginia Orchestra
---
Audition Workshop for Strings
Sunday, January 22, 2023 - 1:30pm-4pm
deLaski Performing Arts Building, Fairfax Campus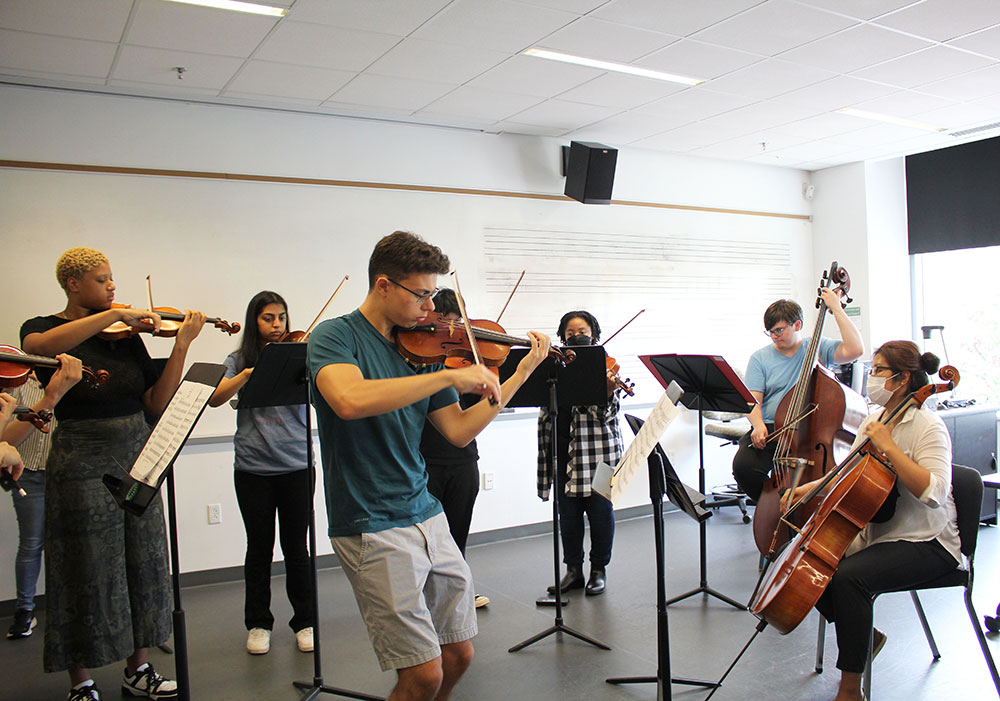 This event focuses on how to prepare the three components of the All-VA audition: scales, excerpts, and sight reading. Students will have the opportunity to receive feedback in a mock audition. All interested high school string players are invited to participate. Be sure to bring your copy of the audition excerpts to the workshop.
Find the audition information and excerpts below:
Clarinet Day
---
Sunday, January 29th 11:30am - 5pm
deLaski Performing Arts Building, Fairfax Campus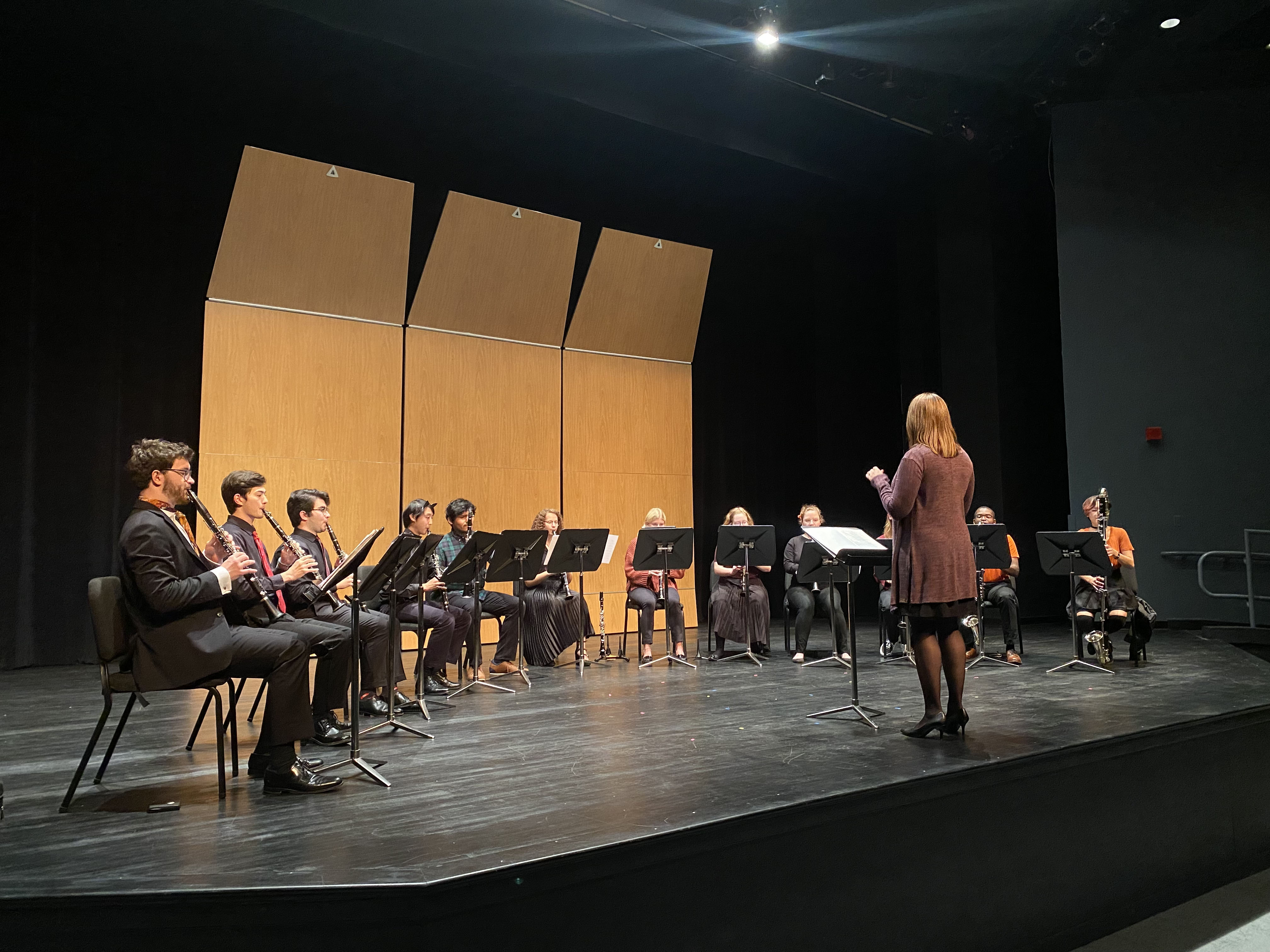 Join us on Sunday, January 29th for Mason's Clarinet Day! This event will include a recital and masterclass by guest artist David Gould, a recital by Dr. Kathy Mulcahy, a festival clarinet choir (open to all participants), and a chance to visit a variety of vendors.
11:30-12 Registration/vendor time 
12-12:30 Festival Clarinet Choir rehearsal #1
               with Dr. Kathy Mulcahy, Mason Professor of Clarinet 
12:30-1 Vendor time
1-1:45 David Gould recital with Dr. Eunae Ko Han, piano and
              Dr. Kathy Mulcahy, bass clarinet
2-2:45 David Gould masterclass 
3-3:30 Dr. Kathy Mulcahy recital with Prof. Jonathan Bisesi, percussion 
3:30-4 Vendor time
4-4:30 Festival Clarinet Choir rehearsal #2
            with Dr. William Lake Jr., Mason Director of Bands 
4:30 Festival Clarinet Choir performance

Saturday February 18, 2023
The Mason Jazz Festival is an invitational event open to middle school, high school, collegiate and community Jazz ensembles. This festival will take place Saturday, February 18, 2023 on the George Mason University Fairfax campus.
Sponsored by Mason Jazz Studies and the Jazz Education Network, participating groups will perform a 20-30 minute set, followed by a clinic by Mason Jazz faculty and special guests.

Monday, June 19 – Friday, June 23, 2023
The Mason Jazz Camp, held on the George Mason University Fairfax Campus, is an inclusive, intensive program, for musicians (instrumental and vocal) of all levels, with a desire to advance their musical artistry and professionalism. (Responsible people of all ages are welcome to attend.) 
The Mason Jazz Camp offers classes in improvisation, jazz theory, ear training, performance practice (big bands and combos), composition, arranging and jazz history. Students have the opportunity to study and participate in master classes and concerts with leading educators and performers in the Washington DC, Virginia and Maryland region.
CVPA Spotlight Days
---
For Admitted Students Only.
The College of Visual and Performing Arts (CVPA) Spotlight Days give you the opportunity to celebrate your admission to the university, connect with current CVPA students and faculty, learn about university life resources, and get guidance on your next steps to officially become a Mason Patriot.
Admitted students are invited to Spotlight Days after admissions decisions are released.
Check back in the Fall for more Spotlight Days. Find more information.