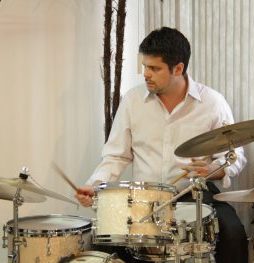 Titles and Organizations
Director, Latin American Ensemble, Dewberry School of Music, CVPA
Contact Information
Campus: Fairfax
Building: de Laski Performing Arts Bldg
Mail Stop: 3E3
Email: jmegna@gmu.edu
Biography
Juan Megna is a drummer/percussionist from Argentina who has lived for 12 years in Brazil where, in 2008, got his degree in Brazilian Popular Music at the State University of Campinas (UNICAMP, Campinas, SP).  In 2015 he moved to Cincinnati, OH and studied at the College-Conservatory of Music where he earned his Masters Degree in Jazz Performance in the Spring semester of 2017.
In Brazil, he played and/or recorded with many prestigious artists such as Vinicius Dorin (Hermeto Pascoal), Jarbas Barbosa (Banda Mantiqueira), Rubinho Antunes, Felipe Silveira (Rosa Passos), Marcos Souza (Johnny Alf), Bruno Mangueira, Rafael dos Santos, Budi Garcia, Albano Sales among many others. Considered a versatile musician, he was part of many groups and ensembles, including the Unicamp Symphony Orchestra (Campinas, SP) and the Brazilian percussion Ensemble "Tambaleio" among others.
In Cincinnati, he was an active member of the local music scene. He played with Craig Bailey, Phil deGreg, Kim Pensyl, Rusty Burge, Aaron Jacobs among others. He also formed, with Thiago Camargo and Kevin Mc Clennan, the Brasa Trio, performing a repertoire of Brazilian Standards and new composers.
In the Fall of 2017, Juan moved to Washington D.C. area to pursue a Doctor of Musical Arts at George Mason University where he is currently director of the Mason Latin American Ensemble.
The Latin American Ensemble has performed at the Smithsonian National Museum of American History, and in spring 2019, was awarded "Outstanding Performance – Graduate College, Latin group" in the 42nd annual DownBeat magazine Student Music Awards. Juan was recently selected to present his clinic "The Brazilian 16th-note phrasing through Cabula rhythm, Samba, and Bossa Nova. Rhythm differences and nuances applied for all instruments" at the Jazz Education Network (JEN) conference in New Orleans, LA.
As a demanded performer in DC musical scene, Juan Megna performs with Mike Cemprola, David Jernigan, Wade Beach, Cris Stiles, among others. Juan also plays with Latin local artists, such as Emmanuel Trifilio, Cristian Perez (Argentina), Cissa Paz and Rafael Pondé (Brazil).
Degree
DMA, George Mason University