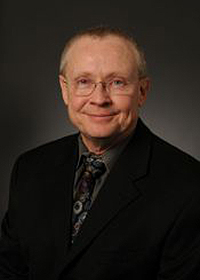 Titles and Organizations
Professor of JAZZ STUDIES and Director of the Metropolitan Jazz Orchestra, Dewberry School of Music, CVPA
Contact Information
Campus: Fairfax
Building: de Laski Performing Arts Bldg
Room A327B
Mail Stop: 3E3
Biography
Professor Jim Carroll has a versatile background ranging from tours with Michael Jackson to Woody Herman and The Thundering Herd.  Jim received both his Undergraduate and Graduate training from Indiana University under the tutelage of David Baker and Eugene Rousseau.
His travels have taken him to major venues in each of the Fifty States, Europe and the Far East.  He has performed at the Aurex, Nice, Bern, Concord, Montreux, Kool, Monterey, Newport, North Sea, Perugia, and Pori jazz festivals.  Active as an educator, he has taught at Butler University, Capital University and the Jamey Aebersold Summer Jazz Workshops.
He has authored several volumes through Hal Leonard's "Artists Transcriptions" series, including a collaboration with jazz legend Sonny Rollins.   His arrangement and performance of "The Ballgame" can be heard at main entrance of Nationals Park in Washington, D.C.   Mr. Carroll was a charter member of the Smithsonian Jazz Masterworks Orchestra, in residence at the Smithsonian's Museum of American History.  He performed, recorded and toured with the group until 1999 when he assumed the position as Director of Jazz Studies at George Mason University.
Mr. Carroll is the founder and artistic director of the Metropolitan Jazz Orchestra and the Jazz Connection.  He is passionate about spreading the word of the power of the arts to bring people together, change lives and do good in the world.
Jim resides in Manassas, Virginia with his wife Janette.
Professor of Music
Founder of Mason Jazz Studies
Mason Jazz Ensemble
Topics in Jazz Studies
Introduction to Jazz Improvisation
Jazz Improvisation I & II
Jazz & Blues in America
Applied Saxophone
Degrees
MM, Woodwind Performance, Indiana University
B.M. Saxophone Performance, Indiana University