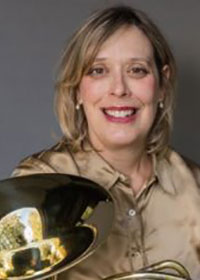 Titles and Organizations
Adjunct Faculty, HORN, Dewberry School of Music, CVPA
Contact Information
Phone: 703-993-1380
Campus: Fairfax
Building: de Laski Performing Arts Bldg
Room A417
Mail Stop: 3E3
Biography
Amy Horn is a versatile performer with extensive solo and ensemble experience. She has been a frequent soloist in the Washington, DC area and in 2016, capped her twenty-nine-year career as a member of "The President's Own" United States Marine Band by being a featured soloist during the Band's annual fall tour. In addition to her horn playing, Amy sang and played guitar as a member of the Marine Band's country rock ensemble Free Country for over twenty years.
In 2019, Amy was the featured artist at the Suffolk County Music Educators Association Day of Horn. She has appeared as a soloist and clinician in Washington DC, Florida, Ohio, New Mexico, Wisconsin, and Georgia. Amy was a finalist in the 1994 and 1989 American Horn Competition, competing against other professionals throughout the U.S. in horn solo literature.
As a free-lance musician in the DC metropolitan area, Amy has performed with most of the area's symphony orchestras and choral groups including the Washington Concert Opera, National Philharmonic, and the Annapolis Symphony. She is principal horn with the Alexandria Symphony Orchestra, the Maryland Lyric Opera, and the American Pops Orchestra. She has been a member of the Washington Symphonic Brass since 1993, which features some of the best brass players in the Washington, DC area and can be heard on all six of their recordings available on Spotify and Summit Records.
In 2017, Amy had two interviews in the journal of the International Horn Society, The Horn Call, and was featured in The Brass Junkies Podcast, Episode 68. As a subject matter expert on up beats, Amy has given her semi-serious lecture, "Why, Mr. Sousa? Why?" Off-beats: Thorn of the Horn! at the Southeast Horn Workshop virtually in 2021 at Austin Peay State University in Clarksville, TN and at James Madison University in Harrisonburg, VA in 2017.
In addition to performing, Amy enjoys teaching students of all ages and has adjudicated numerous area school music competitions and auditions. Her joy of teaching and desire to share her passion for the horn has resulted in Amy cohosting six (one virtual) consecutive Horn Days!, an all-day horn workshop at George Mason University. She also formed an amateur horn choir, Capital Horns based at Glen Echo Park, Maryland at the Washington Conservatory of Music. She is on the faculty at both schools. From 2017-2018 she was on the faculty of the venerable New England Music Camp in Maine. Amy's own teachers were Herbert Spencer at Bowling Green State University, Ted Thayer, Peter Landgren, Randy Gardner, and Dave Fedderly at Catholic University. Amy earned her doctorate under the tutelage of Greg Miller and Martin Hackleman at the University of Maryland.
Adjunct Applied Faculty
Degrees
DMA, Music, University of Maryland, College Park